Basic and Advanced Hypnosis Training New Orleans provides you with what you need to know to start working with friends, family and clients after you complete the training. This exciting program has been taught in Dallas and Atlanta and is now coming to New Orleans this year. Join Second Generation Hypnotherapist and Certified Master Trainer Mark V Johnson and his wife Lana when they present Hypnosis Training New Orleans.
This 220 hour Hypnotherapy Certification Course is presented in two 5 day levels to allow the students time to start using their new skills before they complete the classroom portion of the training. In addition to the classroom instruction, the students will also complete additional home study and case work submissions in order to qualify for certification. The first year of certification with the International Association of Counselors and Therapists (IACT) as a Certified Hypnotherapist is included in the tuition. Also included is a detailed Hypnotherapy Training Manual that provides a wealth of information to the hypnotherapy student.
Mark and Lana both began studying hypnosis over 10 years ago and bring their knowledge and understand they obtained from their training as well as their experience from working with clients to the training. They feel it is important to get out there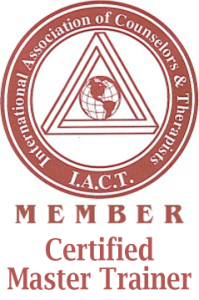 and start working with people right away, because that is the most effective way to learn even more about hypnosis.
The Hypnosis Training New Orleans class is presented in a way that allows the students to learn from discussion of important concepts followed by live demonstrations with volunteers from the class as well as clients with real life issues. Next the students will have the opportunity for supervised hands on practice sessions with fellow students in order to assist themselves in gaining the maximum benefit from the training.
Hypnosis Training New Orleans
Professional Hypnotherapy Instruction
An Overview of the History of Hypnosis
Live Demonstrations with Students
Specially Selected Video Case Histories
Hands on Experience Through Supervised Student Practice
Detailed Hypnotherapy Training Manuals
How to Write Hypnosis Scripts
Intake, Release and Progress Forms
Practice Building Tips and Tricks
Certification with Certificate Suitable for Framing
One Year Membership in IACT
Are you interested in becoming a Certified Hypnotherapist?
Do you have a desire to help other make positive changes in their lives?
No previous experience is required. The Good Vibes Hypnosis Training New Orleans class allows those involved in all types of healing modalities including massage, body work, counselors and therapists to add new methods to their existing practice. It is even beneficial for those who wish to take the training solely for their own personal development.
The upcoming classes include 10 days of instruction divided into two 5 day levels. Each level will be held Wednesday through Sunday from 9am to 7pm. The schedule and pricing for Good Vibes Hypnosis Training New Orleans are included below.
Visit www.hypnomark.com to find out more or register for the upcoming hypnosis training in New Orleans.

For additional information and details about the training, please visit our main website
Good Vibes Hypnosis Training or if you are ready to go ahead and register for the next class you can Register Now.